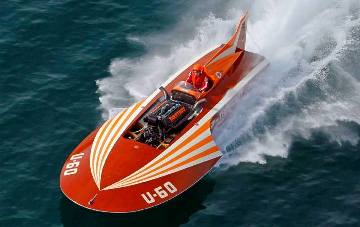 Steve at Mahogany & Merlot 2013
Photo by Christine Gleason


At Chelan last year, we finally ran Engine #2. It worked pretty well and if it hadn't been for a few oil leaks and a misbehaving switch, it would have been a perfect weekend. As it turned out, we ran five times and learned something each time.

2014 is going to be a light year for us. Only three events are scheduled but it could be we only attend two. The Diamond Cup in Coeur d'Alene has a few issues to resolve in order for the event to take place. We know Doug Miller is not giving up and we are tenatively planning on attending.

The HAPO Columbia Cup will take place on the Columbia River in Kennewick, WA on July 25-27. The Miss Thriftway, Dixon Smith's Miss Bardahl and the Hydroplane and Raceboat Museum's Miss Wahoo are scheduled to perform exhibitions on all three days.

In early October, the Museum's annual "Fun Day" has turned into quite an event. The Antique and Classic Boat Society (ACBS) has been bringing some phenominal works of art the past years, the Northwest Vintage Hydroplanes (APBA's limited vintage hydros) have been putting on a great show with as many as six boats running exhibitions, and HARM Board member Monty Holmes has arranged a number of old cars to come over for display. This year October 4-5 are the dates.