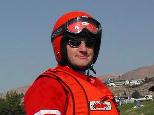 Co-Owner - Woodworking/Hull
Steve Compton of Sammamish, WA.
(aka "Woody")

Steve is one of the family owners of Compton Lumber in Seattle. Steve raced the radio controlled hydros in the early 80's, crewed on a 280 limited hydro (now 5 liter) and has worked as a part-time volunteer with various unlimited teams over the years.

Steve recently purchased the 280 he crewed on back in the 80's, THE GOLD STREAK, and is currently restoring her so he can participate in the APBA Region 10 Vintage events when he's not working on MISS THRIFTWAY.